Apartment Charles Bridge
My apartment offers access to these top Prague monuments and sites of historical interest – UNESCO rated Charles Bridge, Kampa, National Theater or Laterna Magica are all accessible within a 10 min walking distance. The vast majority of the other highlights – Prague Castle, Old Town Square and the Astronomical Clock or the Betlehem Chapel are in the direct vicinity, you can easily see them in about 20 minutes of moderate walking distance.
Choose your way. I am flexible...
Surroundings
My appartment is located in the Lesser (Little) Quarter that was founded in 1257 on the slopes below Prague Castle. They are in a minute distance from each other.
Services
Coffee Place, Restaurants, Public Transport or parks all are at your disposal mostly literary behind the corner. I made a selection of my favorite places.
5 restaurants
up to 90 seconds far from the apartment on foot
5 theaters and clubs
up to 15 min far from the apartment on foot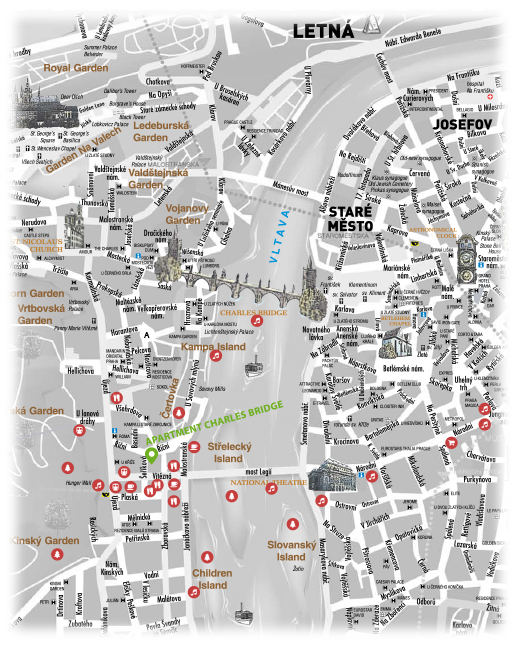 3 transport lines
2 trams + 1 funicular station within 2 min distance from the apartment on foot
Petrin Funicular - funicular strop is 2 minutes distance from the apartment of foot, it takes you up to the Petrin Hill to the mini Eiffel Tower from where you can take a walk to Hradcany and Prague Castle area through a delightful park where you can witness a marvelous view of the historical center
No 22 Tram stop - the tram stop is 1 min far from the apartment of foot, tram 22 tram takes you to directly to the Prague Castle and Hradčany area
No 9 Tram stop - the tram stop is 30 seconds far from the apartment of foot, this tram operates 3 – 5 minute intervals on working days, 8 – 10 minutes during the weekend; in 8 minutes it takes you to the Wenceslaw Square (Václavské náměstí), and in 12 minutes to the Main Railway Station (Hlavní nádraží)
2 shopping centre
up to 10 min on foot
Quadrio - or you can take tram No 9 – tram station National Street (Národní Třída)
3 nobel coffee places
within 90 seconds far from the apartment on foot

My amazing Charles Bridge apartment in a UNESCO world heritage zone is available for your stay !
Experienced home exchanger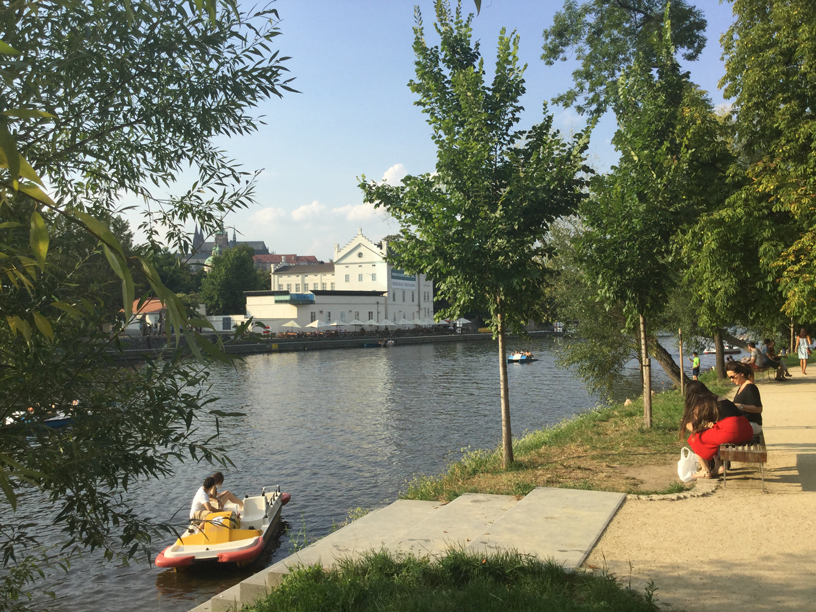 In the past eleven years I realised over 15 homeexchanges and took my family and friends several...
MORE →
Contact Us
Feel free to contact me with your requries I am happy to provide more information about the rent and home exchange possibilities.
You can simply contact me on marie@apartment-charles-bridge.eu.
Prague is a truly an amaizing city and it is well worth to visit at least once in a lifetime!
Calendar
I will also consider your stay on different dates, non-simultaneous home exchange is also possible. Don't hesitate and do get in touch on marie@apartment-charles-bridge.eu. I am looking forward to hearing from you. Marie